In two matches of the BWCV T20 Meister 2023 held on Thursday 18 May, the TSVM Sharks showcased their remarkable skills as they emerged victorious against VFB Cricket Friedrichshafen. The Sharks' exceptional all round performance in batting, bowling and fielding resulted in two convincing wins, leaving the opposition stunned.
Sharks traveled to Friedrichshafen for the matches. It was a cloudy day with cold wind blowing over the Bodensee. Varun, captain of the Sharks, won the toss and elected to bat first in both matches. Sharks put a total of 142 in 20 overs in the first match. Harish and Chinmay started well with 65 runs opening partnership. After Chinmay departed Varun scored quick 31 runs with 147.62 strike rate. In response, Freidrichshafen scored 111 in 20 overs. Akhil led the Sharks' bowling attack by taking 3 wickets in 4 overs by giving only 16 runs. He was joined by Virat who was very economical and gave only 14 runs in his 3 overs upfront. Rohit, who played first match of the season also contributed with 2 wickets. Finally, the Sharks won the match by 31 runs.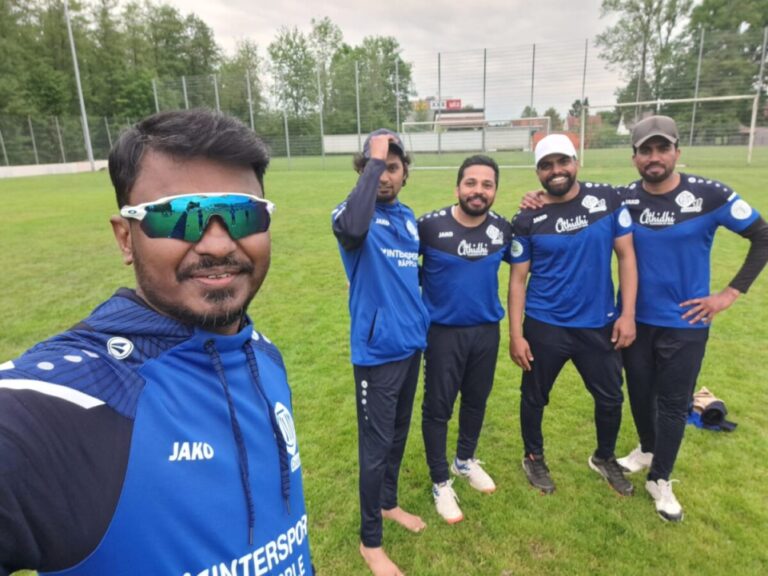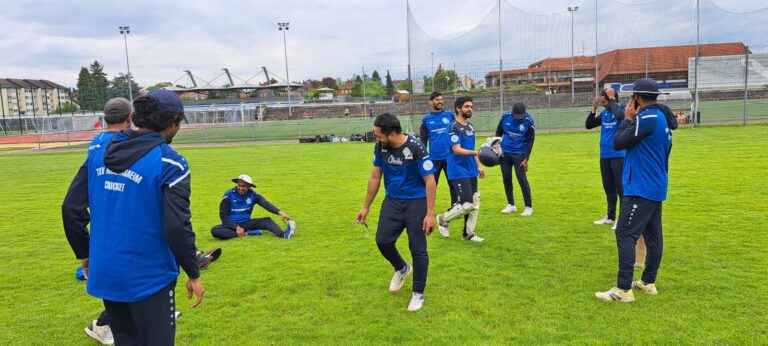 In the second match, Sharks posted a big total of 176/4 in 20 overs. Harish bettered his batting performance and scored 96 runs off 69 balls. It was an incredible inning which included awestruck sixes over cover region. Not content with just dominating with the bat, Harish unleashed a formidable bowling attack that proved to be nightmare for opposition batsman. He gave only 5 runs in 3 overs by taking 1 wicket. Chinmay played aggressively in death overs and was not out for 36 in 20 balls. In the 2nd inning of the match Friedrichshafen were bundled down for 83 in 16.4 overs. Virat and Akhil bowled a brilliant spell of fast bowling from the word go. They put the opposition under pressure with quick wickets. Rajesh started off from where we had left in the last match and repeated his prowess by taking 3 wickets in 3 overs. Sharks won the game with massive 93 runs.
The TSVM Sharks' incredible win against Friedrichshafen on Thursday showcased their exemplary skills in both batting and bowling. Their dominant display of aggression, precision, and teamwork resulted in two convincing victories, leaving the opposition in awe. Sharks want to keep the momentum going ahead in the tournament. They will play next 2 matches on 20 May.