In the journey of the Sharks in cricket, where a champion rise in every match, Harish Dhanian, the higly talented opening batsman of the Sharks, recently showcased an extraordinary display of batting mastery. Harish played a breathtaking inning of 96 runs filled with remarkable cricketing shots against Friedrichshafen.
After a win against Aalen in the BWCV T20 Meister 2023 tournament, the Sharks played their next 2 matches against VFB Cricket Friedrichshafen on 18 May. Sharks disseminated the opponents in all areas and earned 8 points comfortably. There were multiple performances but the day belonged to Harish. His batting show was a masterclass in shot selection and execution. With an extensive repertoire of strokes, he effortlessly dispatched bowlers to all corners of the field, sometime out of the ground.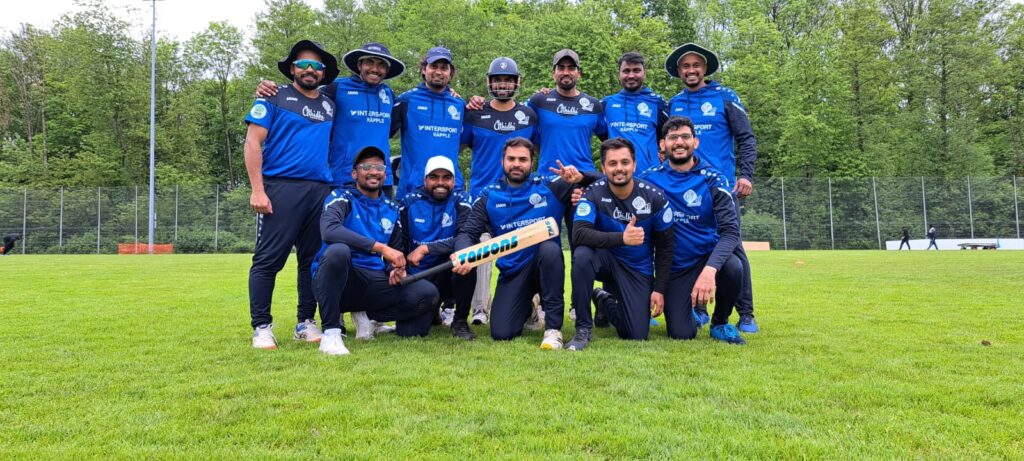 Harish was born in the state of Haryana where athletes have brought the most medals for India in summer Olympics. He embodied the sport traditions since childhood and played multiple sports, Cricket and Volleyball. Cricket has been his first love. He is highly dedicated, passionate and committed for the game of cricket. In cricketing circle, he is fondly called Chaudhary. Harish has impeccable ability to strike the cricket ball cleanly. His cover drives pierce through the fielders, his flick struck awe in opponents, his short arm jabs travel like bullet, his square cuts blaze past point, and his lofted shots sail out of the ground.
Harish's inning against Friedrichshafen is the testament of his skills and determination. He opened the batting and scored 96 runs off 69 balls with 11 fours and 6 sixes. Sound of each shot was music to cricketing ears. The 2 sixes over cover were the highlight of his inning. The performance brought him the most valuable player (MVP) award in the match with 15.26 points. He has written a symphony with his cricket bat with perfect balance of power and finesse which will create flutter in German cricket corridor. Moreover, he scored quick 40 runs in the first match against Friedrichshafen off 27 balls which included 1 four and 3 sixes.
The TSVM Sharks is proud to have home grown champion. He is an inspiration to every young players in TSVM cricket. He will play a major role in the success of the Sharks in the BWCV tournament. They hope to see his brilliant shows many more times in the future.